LETTER WRITING CAMPAIGN (November & December 2018)
Over the last two months of 2018 the CB4EU team ran three street stalls with a single aim – to get Barnet residents to write letters (you remember – what we used to do before email) to our local MPs.
As well as having a huge amount of fun delivering talking to people who approached us (and delivering the letters) we had a truly overwhelming response from people on the streets. At every single street stall we had people signing letters at the rate of more than one per minute! There were times when we literally had people queuing up to sign the letters.
On the first street day we got 160 letters written, signed and sealed for Chipping Barnet MP Theresa Villiers
We switched the area of activity the following two weeks to target Mike Freer in Finchley and Golders Green. Over two sessions we got more than 300 (t h r e e  h u n d r e d) letters personally signed by local votes for Mr Freer.  We also had a lot of fun delivering the letters……
PEOPLE'S MARCH (23/10/2018)
CB4EU had volunteers out for three weeks solidly, every single evening prior to the People's March in October. The idea was to raise awareness of the march and get as many people along as we could.
On the day the turnout from Barnet residents was amazing. We had at least 40 people joining
from High Barnet Station and a similar number joining at stations all along the Northern Line.
Banners, t-shirts, flags the whole lot.
We know there were also a few stragglers who missed the main party leaving- but went along and marched anyway.
And what an amazing day it was well over 700,000 people, smiling, marching and standing up to be counted…..
LONDON SCHOOL OF ECONOMICS STUDY ON BARNET BREXIT IMPACT (28/09/2018)
Earlier this year a group of economics researchers at the LSE started a project to understand the real impact of Brexit on local communities.
They felt that the: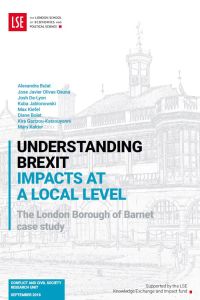 "economic analysis published on the issue have, so far, largely failed to grasp the attention of the general public. Most of the discussions about Brexit take place in what could be described as elite circles and… there has been very little evidence-based discussion at local levels. Moreover, one of the obstacles to local level evidence based discussions is a distrust of expert evidence"
Their project aimed to overcome these issues by engaging with people at a local level and by conducting personal interviews as well as desk research. They chose the Borough of Barnet as one area to investigate. You can find the full report here. 
It doesn't make great reading for the future our our local services and for local businesses.
The release of the report  was followed by a debate in Barnet – which was covered by the local press. You can find the Barnet Borough Times report on the evening here. 
HOW LONG DO YOU THINK IT TAKES…….?
As a grassroots organisation with no affiliation to any political party, CB4EU have been trying to get in touch with our MP, Theresa Villiers.  For some reason we are have been unable to manage this despite numerous letters, emails, calls, promises etc. So – while we wait – here's a quiz question for you?
QUESTION: How long do you think we've been waiting?
ANSWER: To help our fellow voters we've created a "Where's Our MP" counter – where you can see the (latest) answer to the question….tick..tock…tick…tock
THE PEOPLE'S MARCH (23/06/2018)
The CB4EU team was busy through the month of June in the run up to the People's March. We ran another Brexitometer on the Street Stall on June 16th. The results again showed clearly that Barnet does not want Brexit . We gave out literally hundreds of fliers about the march and we ensured that for every evening for three consecutive weeks CB4EU volunteers were at tube stations giving out People's March leaflets and signing people up for the march.
In addition CB4EU volunteers attended the SODEM Night Vigil outside the Law Courts on 11 June and the Pies not Lies action day outside Parliament on the following day.
In the event, the Barnet turn out for the June 23rd People's March was outstanding. You can read a full account of it here. From High Barnet down people joined our group and marched together with flags, and banners and hope. You can read a fuller account here.
JUNE STREET STALL & BREXITOMETER (2/06/2018)
Another sunny Saturday in Barnet, another CB4EU was on the High Street and another great result. Lots of interest, lots of new supporters added to the mailing list, new volunteers helping us on the streets and another Brexitometer showing that the people of Barnet overwhelmingly don't want Brexit.
Asked the whether they think Brexit will be good for Barnet – the response was overwhelming…again. No Brexit won't be good for the Borough. It won't be good for the NHS (which is nearing its 70th birthday) and the residents of Barnet would really like to have a vote on the final deal.
CB4EU GROWING SUPPORT ACROSS THE CONSTITUENCY
What is really encouraging is that each time the CB4EU team get out campaigning we are able to add more and more supporters to the group.
Clearly our focus is on the constituency of Chipping Barnet but we have volunteers come and help us from long distances outside – and we have supporters who are happy to join even if they don't live in Barnet. Most importantly we continue to grow a strong base across the constituency
KEEPING UP THE PRESSURE  (17/05/2018)
We keep on pressing the case for what is best for Barnet at both national and local level. CB4EU believes it is important that people understand the impact that Brexit could have on our local communitiy, services, organisations and businesses.
CB4EU Co-chair Martin Earl, in his letter pointed out that there is a growing demand across the country for people to have a vote on whatever final deal is agreed (including an option to remain). He also pointed that CB4EU is still waiting  to have a meeting promised by and with our local MP.
MAY STREET STALL (12/05/2018)
We continue to get really positive responses from Barnet residents when we campaign on the streets. At our street stall in May we ran our first Brexitometer – which proved to be very popular.
The principle is simple – we asked three simple questions and get anyone who wants to, to share their opinion. It's good to say that people on both sides of the debate stopped to share their opinions.
Petition to Barnet Council (27/04/2018)
Barnet is home to many EU citizens – our colleagues at work, our friends, our family. At CB4EU we are concerned that the potential personal and local impacts of leaving the European Union are not fully understood. Far less documented and organised. We believe that Barnet Council should ensure there is adequate, timely, informed and relevant help available to anyone of our fellow residents who requires it. To this end we have submitted an e-petition to the Council.
You can read and sign the petition here . Please help us by signing and by getting everyone you know to do the same
We the undersigned petition the council to ensure that all Barnet residents whose rights in Barnet are adversely affected by Brexit and have difficulty affording the legal costs involved are able to access independent legal advice, support, and information. We further petition that the Council achieves this by establishing an independent charity, by working with third parties and voluntary agencies, and by providing direct assistance where appropriate.
You will need to register on the Barnet Council site if you haven't done so already to be able to sign the petition – but it only takes a minute to do.
Lobbying local council candidates (10/04/2018)
Chipping Barnet for Europe continues to campaign at both the local and national level. This week the CB4EU Press Officer wrote to all 74 candidates standing for election in the forthcoming council elections. He was interviewed by the local media – who also reported a recent independent survey which estimates that 1600 jobs will be lost in Barnet as a direct result of Brexit. You can read the full article here.
Peers supporting Chipping Barnet for EU (29/03/2018)
We have received a tremendous response to the letters we sent to Peers who are currently
debating the EU (Withdrawal) Bill. You can see the letter we sent here. You can also read some of their responses here.
A number of these Peers have been extremely supportive of the work grassroots organisations like CB4EU are doing. In a recent letter to the local press we were able to quote Lord Newby who referenced us directly:
…it is so important that organisations such as Chipping Barnet for Europe  help spread the word that Brexit is not something that will happen somewhere else and to somebody else..
Continued Press Coverage (14/03/2018)

Our supporters continue to express their concerns about the impact of Brexit on the local community.
It seems to be a theme that resonates.
Another letter from one of our members was published this week too.
Lobbying the Shadow Secretary  (24/02/2018)
 Our activists were out campaigning on Feb 24th when Keir Starmer, the Shadow Secretary of State for Exiting the European Union, came to visit Barnet Labour Party HQ. They were able to talk to him and get the message across, and left him in no doubt that Barnet voted to remain in the European Union
We were also present at the hustings for local councillors at the end of last month (where we signed up a number of new members)
More Press Coverage (08/02/2018)
As a local grassroots organisation we feel it is very important to express the views of our supporters – Barnet residents. Despite the fact that her constituency voted with a very large majority to remain in the EU, our local MP, Theresa Villiers is a strong advocate of Brexit and continues to get national media coverage for this position.
Our co-chair, Martin Earl, wrote to the Barnet Borough Times this week to remind them and Ms Villiers that actually her view is not representative of the majority of her constituents.
On Barnet High Street (20/01/2018)
On a cold and very, very wet Saturday morning CB4EU set up its first campaign stall on Barnet High Street – just outside the Spires Shopping Centre.
Despite the awful weather the interest from Barnet shoppers was both very high and very positive. Lots of people approached the stall to take leaflets, share their opinion and ask to join the supporter list. More stalls are planned for the coming weeks.
Official Launch of Chipping Barnet for Europe (16/01/2018)
On Tuesday January 16th supporters of Chipping Barnet for Europe made their public launch outside the Houses of Parliament as part of the National Day of Action.
The launch was reported on by both international TV (Czezh TV reported on the demo) as well as the local media.
You can see the local press report here
Chipping Barnet for Europe out campaigning
From This is Local London (December 11 2017)

"Remainers campaigned in the street the weekend to put forward their point of view on Brexit. Supporters of Britain remaining in the EU took to Ballards Lane in Finchley on Saturday to ask passers-by if they agreed with the notion of a referendum on the final Brexit deal.
The campaign group, Chipping Barnet for Europe, believe there should be a "meaningful" vote on the final deal which includes an option to stay in the EU if a majority believes the alternatives are detrimental to the county.
Martin Earl, from Chipping Barnet for Europe, said: "The response was very positive with many not realising that the electorate could ask for – and expect, such an option.

"After all, nothing is settled until everything is settled – and that includes leaving."
(Dec 31 2017) : Hot off the press: a publication you might be interested in
Prose and Cons: Poems Against the Brexit Machine
An antidote to Brexit bile: Prose and Cons: Poems Against the Brexit Machine
Vexed by Brexit? Insane about Remain? Many people do not believe they now have the right to right the wrong that was Brexit. These include fatigued Remain voters, and Leavers in quiet regret. How then do we unlock the paralysis that has gripped our parliamentary decision makers?
Brexit rose on a devil's cocktail of naked populism, lies, and a large wad of dirty cash. It will be ended by a more thoughtful version of popular activism, in which the Rage Against the Brexit Machine project leads the way. We reach people's visceral centres – penetrating their heads via their hearts. Our writers in this book contribute to the cause via Prose and Cons, song lyrics, poems and prose published just in time for Christmas. We come from all over Europe – united not by dogma or politics but with one vision: to Break Brexit Before Brexit Breaks Britain.
Our feeble excuse for a government still cannot explain the motive for the Brexit crime. They cannot tell us which version of Brexit we are aiming for – hard, soft, clean, dirty, black, blue, retro, trance – nor point to any significant benefits of leaving the EU. Indeed, it has become plain that Brexit offers us a bleak future of privatised health and social care; unprotected employment conditions; a servile economy of low wages; environmental rape; and a Brexodus of major industries from the UK.
We seek a better Britain in a united Europe – that's hardly a sonnet, but you get the general idea. Poetry alone won't stop Brexit: it is like a hydra, which grows new heads when attacked, shape–shifting to avoid a fixed position. We hope that our contribution weakens the monster in some small way, while doing some good for a basket of charities from the Teenage Cancer Trust to Save the Children and Water Aid.